Damage Free Ways to Switch Up Your Style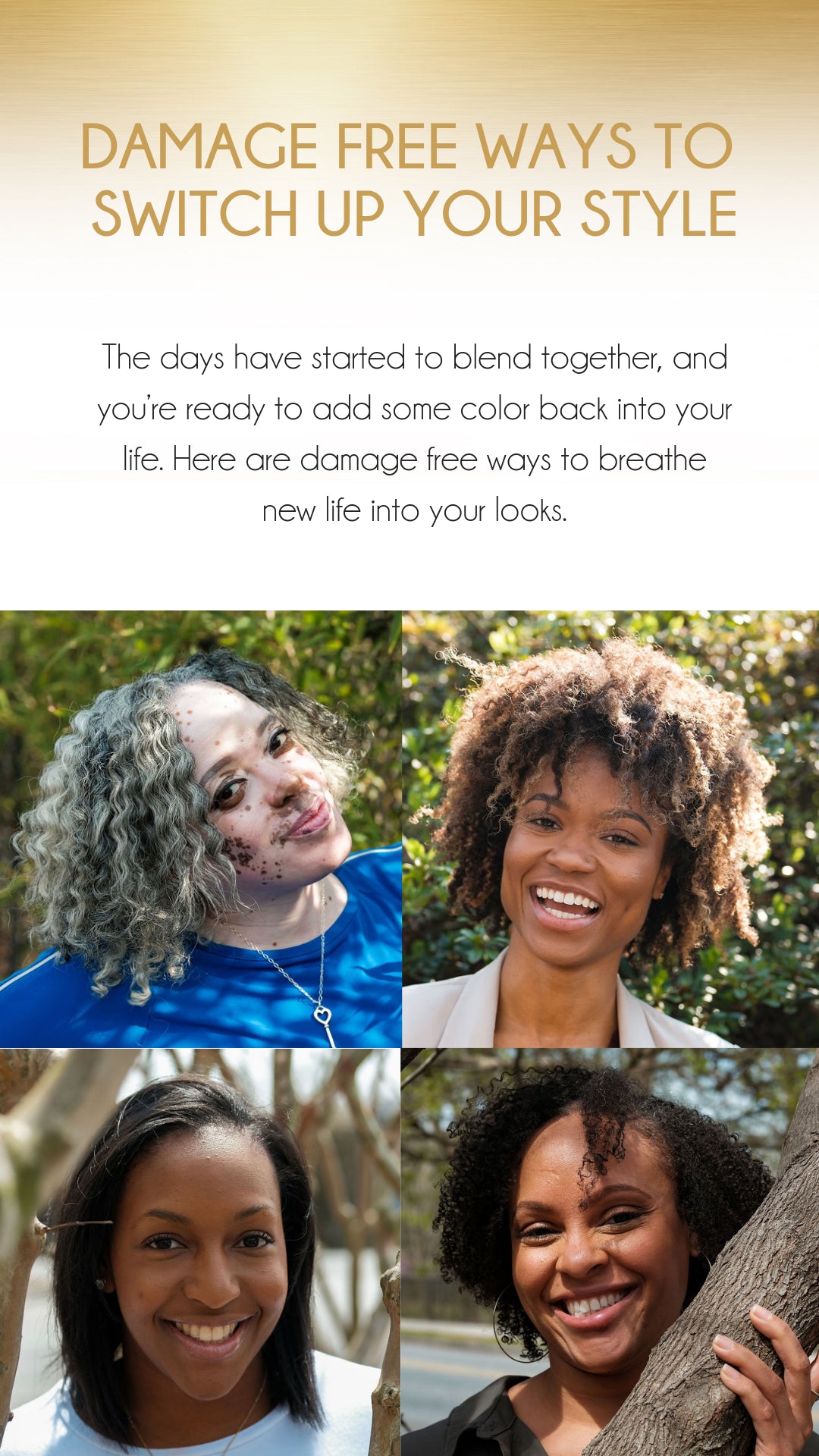 Ever feel like you're in the movie Groundhog's Day? You wake up, workout, go to work, chill out, and repeat. You wear variations of the same outfits. You wear the same few hairstyles. The days have started to blend together, and you're ready to add some color back into your life. The only problem is that so many of the ways we go about switching up our style--intensive coloring, overusing heat, etc.--can end up having negative impacts on the health of our hair. Here are damage free ways to breathe new life into your looks.
Swap out accessories
It's incredible how subtle shifts in your accessories can transform a look. If you normally wear a statement necklace with a signature look, try a pair of statement earrings instead. Add in a couple of decorative clips or bobby pins instead of sticking with plain black. Tie in a colorful silk or satin scarf. These tiny swaps can make your go-to styles look brand new. Just make sure that you're choosing accessories that won't cause hair breakage.
Do a mini makeover
As with accessories, changes to your regular makeup routine can shift the way your style is perceived. Spend a week shifting different parts of your makeup routine. Flip at least one part of your routine on its head each day. Try a winged eyeliner. Incorporate a bolder lip. Test out contouring. Experiment with a no-makeup, makeup look. Put on lashes. Even though you're not changing your hairstyle, you'll find that these tweaks can transform your looks.
Wig out
If the smaller shifts aren't cutting it, try a wig. You can play with a variety of colors, lengths, and textures without subjecting your hair to heat and chemicals. If you're strategic, your wigs can serve a double purpose. Switch up your style while protecting your hair. Use the Crowned Protein Masque before you put your hair under the wig. Continue to oil your scalp with the Hair + Scalp Growth Elixir to support long-term growth. With a wig, you get the fun of a new look with added benefits.
Switching up your style doesn't require a drastic change. Sometimes the smallest changes make the most dramatic difference. In making subtle shifts to your daily routine, you're reminded of the fact that you're in control of the life you're building. Show us the damage free ways that you switch up your look using #shedavi for a chance to be featured.