Is My Shampoo Vegan? - Everything I Need to Know About Vegan Hair Care Product Ingredients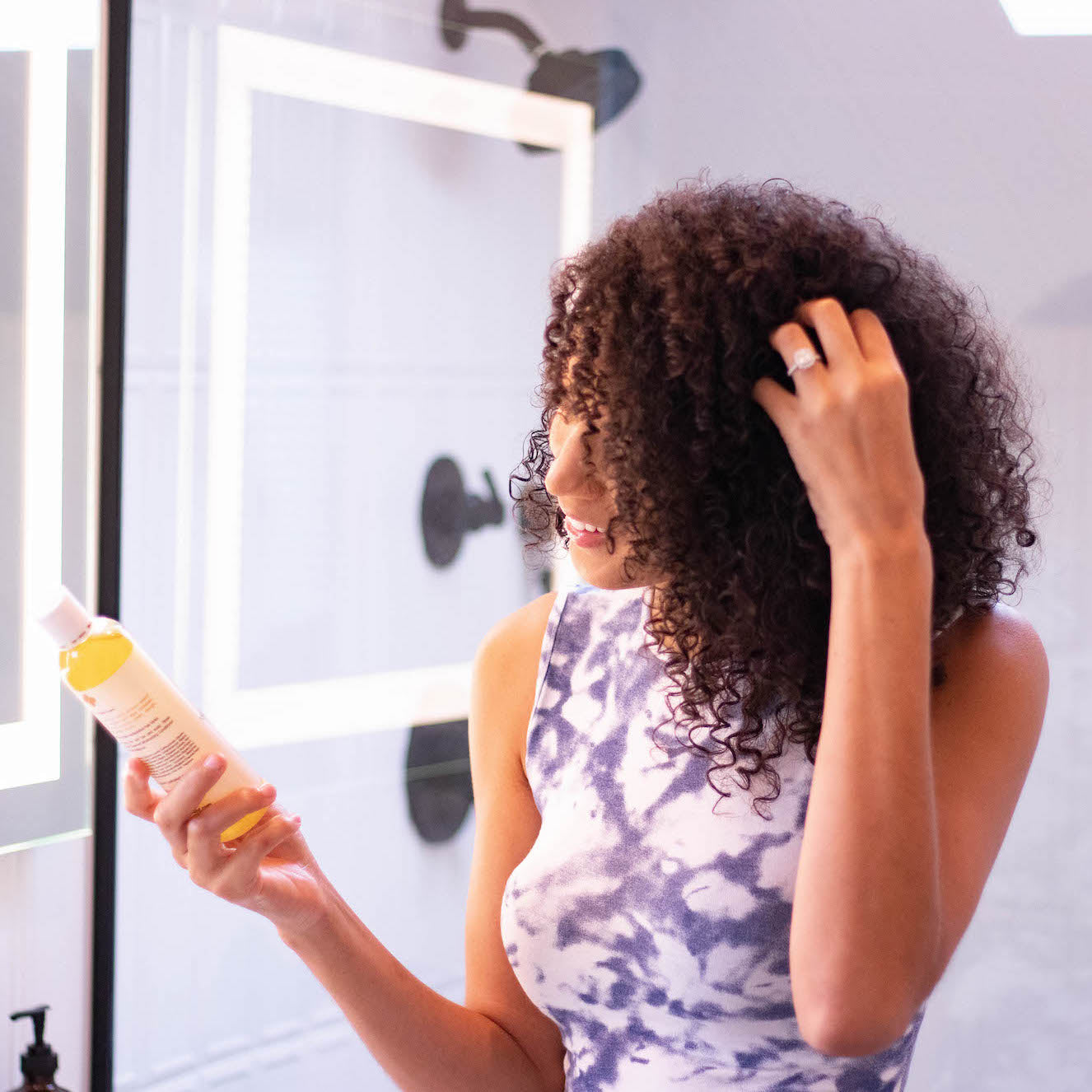 Have you noticed that many skin and hair care products are labeled ORGANIC and NATURAL? They may be eco friendly, but are they really 100% vegan? Most shampoos contain animal ingredients, not because of their special properties, but because of their incredible cheapness. Want to learn how to recognize vegan and cruelty-free hair product ingredients? Then this blog is ideal for you. Keep reading.
Vegan VS. Cruelty-Free
Well, first let's explain the basic concepts. Vegan means a product that does not contain any animal or animal-derived ingredients. A Cruelty-Free product means that the product was not tested on animals but may contain animal or animal by-products.
diamondalicia / Instagram.com
Why vegan hair care?
The trend of natural, vegan products has definitely been on the rise in recent years. While many will argue that veganism is unhealthy, unnatural, or even impossible, going vegan can actually make you healthier and improve your relationship with the natural world and your body's needs. Going vegan means you will help reduce animal suffering, as well as reduce environmental destruction while improving your own health and reducing the possibility of diseases.
Choosing between vegan and NON-vegan lifestyle is definitely a matter of preference. There are several reasons why people most often opt for a vegan lifestyle. The most important of all is that the vegan lifestyle prevents a lot of animal suffering, that is, various forms of torture and animal testing.
Choosing the perfect vegan hair care depends on your hair type and sensitivity level. These types of products usually tend to be less irritating to the scalp. Vegan shampoos generally do not have nasty, harsh ingredients, which is important not just for adults but especially for children who are more susceptible to these ingredients.
Aside from being kinder and safer, vegan and cruelty-free beauty products can also have a massive impact on overall animal consumption, making it a potentially more environmentally friendly option too. *P.S. we've heard that vegan products do wonders for curly hair.
queensconquer / Instagram.com
Does vegan and cruelty-free mean sulfate free?
The big advantage of vegan shampoos is that they do not contain any ingredients of animal origin. However, just because a product is vegan doesn't mean it's sulfate free. Be sure to check product labels for a specific callout stating free of sulfates and other manmade chemicals like parabens and phthalates. Also, keep in mind that vegan shampoos are not always cruelty-free as they are often tested on animals in attempts to "measure the level of irritation to people's skin, lungs and eyes". 
queensconquer / Instagram.com
How to tell if your hair products are vegan?
When dealing with beauty products such as shampoos, conditioners, masks and hair gels, take a look at the label and packaging to see if your product contains any of the popular animal-derived ingredients. To tell if your hair product is vegan or cruelty-free, you'll want to look for ingredients like gelatin, lanolin, collagen, and retinol, among others.
queensconquer / Instagram.com
Beware of these ingredients
Although the packaging often claims otherwise, not all products are always vegan and cruelty free. Unfortunately, animal testing is still the norm for the vast majority of beauty companies who sell their products in store. These are some NON-vegan ingredients you can find in your hair care products (and their vegan counterparts). 
Animal Proteins & Vitamins
Recently, keratin treatments have become extremely popular. But have you thought about what keratin actually is? It's a protein derived from ground horns, hooves, claws, nails, hair, scales and feathers of diverse vertebrates. In the world of hair care it is used to repair damaged hair, make hair stronger and even keep curly or kinky hair straight. We think there are much better alternatives, like soy protein and almond oil. They all have the same, vegan friendly purpose. 
Collagen is a protein that is responsible for the strength and structure of our hair, skin, nails and joints. Unfortunately collagen is not vegan. It is often derived from animal-based ingredients, it is extracted from the muscles, ligaments and aorta of animals. Vegan friendly alternatives: plant-based alternatives that include soy protein, hydrolyzed rice protein or vegan collagen. 
Elastin, an elastic fibrous protein, is naturally present in the connective tissue of animals. Often used in the same kind of products as collagen, elastin is also extracted from the muscles, ligaments and aortas of animals. Vegan friendly alternatives: plant-derived elastin, hyaluronic acid, MSM (Methylsulfonylmethane).
Biotin is a water-soluble vitamin that plays an important part in cell growth and metabolism, and is often used as a texturizer in hair creams and conditioners. It occurs naturally in yeast, liver, kidneys, egg yolk, soy, nuts, and grains. You will most often find this ingredient in hair and skin conditioners and shampoos. Vegan friendly alternative— a vegan biotin. 
Fish & Other Marine Animals
Squalene is a compound that comes from shark liver oil (along with squalane, a derivative of squalene). It can be used in lip balms, sunscreens, deodorants and moisturizers, because it mimics our body's natural oils, so it's easily absorbed without leaving behind a heavy-feeling residue. The vegan squalene option exists and is derived from olives and wheat germ. When buying, be careful, if the brand didn't state where the squalene came from or worse, if you can't find a list of ingredients, that's a whole other concern...
Guanine is a crystalline material that's shimmering or light-diffusing and found in crushed fish scales. It is industrially produced from the scales and skin of fish and even from uric acid. Guanine is most often found in your shampoos, hair sprays, nail polishes and eye shadows.
Glucosamine is found in the exoskeletons of insects and crustaceans. You certainly won't find this ingredient obtained from killed animals in vegan shampoos and hair conditioners.
Silk
Whether it's Silk Amino Acids, Sericin (silk glue), Hydrolyzed Silk or Silk Powder, they are used in many popular hair care products. Due to its high serine level, silk has excellent moisture retention properties and can be incorporated into shampoos, hair creams, pomades, or conditioners. Vegan friendly alternative: instead of silk powder, vegan brands usually replace this ingredient with vegan silk peptides and amino acids. 
Hyaluronic Acid
Our skin contains about 50% of the total hyaluronic acid in our body, it gives elasticity, suppleness and firmness to the skin, but since it is lost through the aging process it is possible to replace it by using creams that contain it. Unfortunately, hyaluronic acid is most commonly derived from umbilical cords, rooster combs, synovial fluid surrounding the animal's joints, and other animal tissue. But, there has been a shift in this field recently, so most natural, organic, and vegan skin care lines finally utilize plant-based Hyaluronic Acid in their formulations. Vegan friendly alternatives: synthetic hyaluronic acid and medicinal-grade plant extracts from soy, wheat, sweet potatoes and plant oils (e.g. coconut). However, if you get good sleep, quality food and enough water, you don't have to resort to such products at all because that chemical is actually produced in our own bodies. 
Gelatin
Gelatin is nothing but boiled collagen.Although this was a more common case in the past, even today some hair care brands still make gelatin by cooking discarded animal bones, skin and ligaments. It can be spotted hiding in products with a thick texture, such as gels and hair masks.Vegan friendly alternative: vegetable gelatin, sea moss (carageenan) or seaweed (agar, kelp, etc.)
Glycerin
Glycerin, also known as glycerin and glycerol can be derived from animal fats.However, there is another version known as vegetable glycerin, which is often obtained from coconut or soybeans.It won't always be clear to see which hair products contain vegetable glycerin because it will simply be listed as one of the ingredients. And that, on the other hand, could give headaches for vegans or people who want to avoid glycerin derived from animal fats. Tip: look for a vegan symbol, or email or phone the company to make an inquiry as to what glycerin is included in their products. 
Lanolin 
This emollient comes from sheep's wool and is a very common ingredient in hair care products. Although lanolin has its own synthetic and plant-based version, it can still be derived from wool and far from cruelty-free. Therefore, pay attention to the product declaration. Vegan friendly alternatives: plant oils (i.e. coconut oil, olive oil) and butters (shea and coconut).
Casein aka sodium caseinate or caseinate
Casein is the principal protein in milk. It's found in the milk of all mammals, and, oddly enough, is often found in food items marked 'non-dairy.' It can most often be found in hair conditioning products such as hair masks. A vegan alternative can be obtained from plant-based milks and will most commonly be labeled as a vegetable protein. 
Cetyl Alcohol
Cetearyl alcohol acts as an emulsifier and stabilizer, meaning it mixes ingredients that do not mix normally. It can most often be found in hair lacquers, lotions, and shampoos. But did you know that it is extracted from the spermaceti (head cavity) of whales, dolphins, and other cetaceans? Try to find better solutions with natural ingredients, like vegetable cetyl alcohol extracted from coconut palm trees, sugar beets and corn plants.
Oleic acid – aka oleyl stearate, oleyl oleate or tallow
Oleic acid is a fatty acid that occurs naturally in various animal fats. In the world of beauty, it is used as a cleanser, lotion or as a texture enhancer. But keep in mind that you don't need to use animal-derived oleic acid to moisturize. Oleic acid can be plant-derived from a number of sources, including olive oil, sunflower seed oil, argan oil, and avocado oil.
Stearic Acid
Stearic Acid is taken from pig, cow and sheep stomachs and is best known as animal fat. It's typically used as a thickening agent and can be found in many lubricants, hairspray, deodorants, face creams, candles and chewing gum. Vegan friendly alternatives: cocoa butter and shea butter. Plant-based versions may also be listed as 'Stearic Acid' but may be identified as 'plant-derived' below the ingredient list.
Bee-products
Bee products are among the natural ingredients in many hair care products. But have you even thought about their origins? There is a very thin line between plant and animal, and such a group includes honey, propolis (bee glue), bee pollen, wax (cera alba) and royal jelly. Therefore, it's time to clear up this misconception. Bee-products are not environmental friendly. Bees don't provide their products for human consumption. Intentional production and use of bee products is not ethically beneficial for bees, and it also has detrimental effects on nature. Vegan friendly alternatives exist in the form of plant and soya waxes.
Vegan shampoo and conditioner vs. traditional hair products
Vegan shampoos typically contain fewer harsh ingredients for your hair and more 'free-from' ingredients.
Vegan beauty products are more likely to use ingredients that are naturally derived, like essential oils and butter extracts.
Using vegan shampoo and conditioners ensures that no animals were harmed during the production process.
Vegan ingredient shampoos are a great option for those prone to allergic reactions or those with sensitive skin.
Vegan shampoos often use biodegradable ingredients as opposed to conventional commercial shampoos.
Vegan shampoo containers are often made from recycled packaging.

xo.yoshiko / Instagram.com
What can you expect?
The main difference you'll notice about vegan ingredientshampoo is that it doesn't lather up the same way your old shampoo did. Wondering why? - Because there are no foaming agents.This doesn't mean it's not getting your hair clean, or that you need to use more shampoo than usual.Using vegan ingredients definitely doesn't mean worse quality, it might take a little getting used to the natural ingredient shampoo, but don't be quick to give up.Trust us, in the end your hair could feel cleaner and healthier than it ever has before.And one more thing, since vegan shampoos contain natural ingredients, they break down easier once they reach the land which means you release less harmful chemicals into the drain.So, if you are buying a vegan shampoo, you are also buying a much more environmentally friendly product.
xo.yoshiko / Instagram.com
In Conclusion 
Although NON-vegan products are safe for human use, vegan products are often far more abundant in vitamins and minerals that have anti-inflammatory and antioxidant properties, making them a potentially smarter and more beneficial option than your usual non-vegan products.So, whether you're battling dryness, hoping for more volume, or seeking a deep clean, there's a vegan shampoo that supports shiny, healthy hair. 
Want to switch to vegan + cruelty-free shampoo and conditioner? From moisturizing shampoos and conditioners to protein masks and hair growth elixirs, all SHEDAVI products are vegan and cruelty free.
*Keep in mind, not every hair product works on every hair type, but vegan hair care products are here to provide everyone with great options.*
Reviews (1 comment)